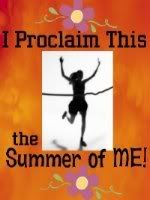 Wanna join me on a summer challenge? Yes, I know my track record for finishing challenges, but it's a start, LOL!!
I am going to focus on ways to think and be healthier. I believe that if I keep concentrating on the weight I need to lose I will get no where. But if every day I concentrate on making small healthier choices, then more opportunities to do the right (healthy) thing will come along.
The challenge officially starts tomorrow, so go sign up, and get posting about what choices you are making for the better!