I am about to lose my mind. My hair won't do anything, it just flips out in all weird directions and hangs in my eyes. Too short to put up, too long to be managable. I hate my hair. I know, there are a million blondes out there who would kill to have such thick hair, but I tell you what, it's not as fun as it's cracked up to be! My hair is sooo thick, and coarse, it just has a mind of it's own. Which is why I usually keep it pretty short, can't do much if there ain't much there. I like how the back and sides looked when I went to Disneyland back in March, but I look kinda odd with no bangs.
When I was pregnant with Danielle I just didn't do anything with it, and by the time I went to deliver it was down to my shoulders. I HATED IT!! I had to put it back all the time, and when I was actually delivering, I had the top in ponies and the back in another pony just to keep it out of my face! Not gonna do that again. I know Dean likes it longer, but really, what guy doesn't like longer hair, I have yet to meet one that will come out and say, no honey, please cut your hair really, really short!! But, as I have pointed out to him, he doesn't have to take care of it every day, I do. And I spend enough time putting Danielle's hair up everyday, I don't have time to do mine too.
Anyways, so today I am going to try to find something that resembles a doable hair style, and if I don't get down to get it cut today, I will at least be stopping by the store to pick up some Herbal Essence Hair Color, so I can atleast stop looking like my mother...
Whatcha think of this one??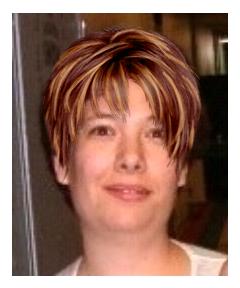 This is only a simulation! My actual hair cut will look much less like a wig, and much more like my own hair, cause it will be, LOL! This is the best I could do with one of those try on a hairstyle programs ;)