This is the year I get organized!! I gotta, two kids means twice as much paper!! So I wanted to share my Homeschool binder with y'all :D excuse my camera phone pictures.
I need to work on the cover. For now, just Timmy all alone on there...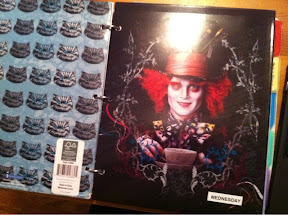 Weekly work folders, where I file worksheets needed for the week. One for each day, all Alice in Wonderland.
Inside of weekly work folders, Jack on left/Danielle on right.
Various important papers, such as school calendars.
Lesson plans
And last, completed work folders. Only work from the current period is filed here. Once we've done period reports, all work will get filed in a box till the end of the year :)
My plan is to keep the binder current, lesson plan on Sunday and try to stick to the plan :D
-- Posted From Wherever I May Be in Time and Space