We're starting a new science experiment. We picked up a My Best Fish Friend at the fair last year and are finally able to try to hatch them! I'll update this post as the process unfolds ;)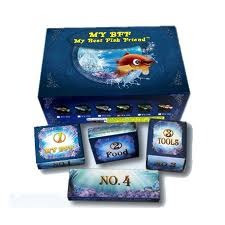 Currently we are conditioning the water to prepare to start hatching tomorrow!
Check back for progress, they should hatch on Monday or so!
Sunday- We prepared the sea monkey food containers for the fish and put the miracle pouch into the hatching bowl. Hopefully by Monday we will have microscopic life in all three containers ;)
Sea monkeys need salt water to grow!
It's like a fish tea bag, lol!
Monday update ~ So far nothing living in any container, but there is a heck of a lot of smutz in the fish bowl.
Monday evening update: we have sea monkeys!!! Lots and lots of sea monkeys! And one itty bitty fish... Too small to photograph :)
Thursday update: Dory (Danielle named the fish) continues to grow and is going after the sea monkeys like a tiny shark!
-- Posted From Wherever I May Be in Time and Space