Albiet a busy one, LOL! We hit the ground running today, and met up with
Tiffiny
, Seren and Baby John at Gymnastics Beat for open gym play time. The kids had a blast, and it was nice to visit with Tiffiny while chasing around Baby J.
Tiffiny was nice enough to offer to take Danielle with her, so I was free to take Jack to Speech Therapy. Of course this means that her school work that was going to get done during speech therapy didn't get done, so she'll have more to do for the rest of the week, but it shouldn't be an issue.
Jack-Jack and I headed over to Fresno State for his speech appoinment, and since we arrived early, we went and got a snack at Panda Express.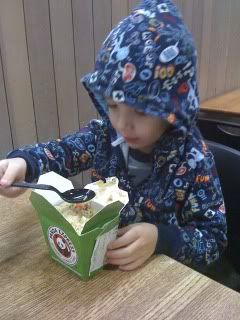 Jack and I hit the grocery store and came home and had a quiet afternoon till sister came home. After dinner, I baked Peanut Butter Chocolate Chip cookies.
Just to balance the scales, after eating only two peanut butter cookies, I played Just Dance on the Wii for 20 minutes. Now if you've never heard of Just Dance for the Wii, it's a dancing party game. But just because it's a game, doesn't mean you don't work up a sweat, LOL! The kids and I danced to Baha Men, Cyndi Lauper, Spice Girls, Presidents of the United States and more! We all had fun!
I highly recommend the game, it's fun and a good way to work up a sweat. Plus, it's great to play with friends!!