I am trying to do little holiday crafts and activities with the children as we are leading up to Christmas. We made reindeer food! It's made up of oats and colored sugar. They are going to sprinkle it outside on Christmas Eve :) The sugar makes is sparkle so the reindeer can see it from the roof and can come down for a snack !

Jack concentrates on sprinkling his sugar.



Danielle scoops oats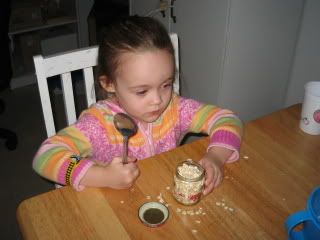 Shraddha waiting for sugar.



Finished jar.